What kind of candy does your company sell?
It depends on the season! For Halloween we sell candy corn as well as black and orange jelly beans. For Christmas, we sell red and green jelly beans as well as peppermint swirls. 
Can I still order the jars when they are out of season?
Of course! We sell both kinds of jars year round.
What happens if my jar gets broken during shipping?
With our very durable packaging, we ensure you that your jar will make it in one piece to your home. Although if it were to break, you could easily ship it back to us and we will send you a new jar free of charge.
Powered by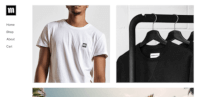 Create your own unique website with customizable templates.